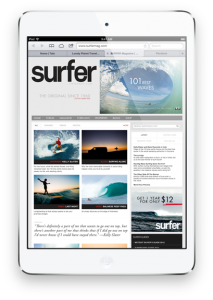 As I mentioned in a previous post, many of my recent freelance gigs have involved reading printed materials on various electronic devices. For several distinct projects, I read the same material on no fewer than four devices at a time, and each had a different layout, different size, different coding language and different interactive elements. This was the case because Apple, Amazon and the rest render their materials in different, proprietary programming languages, and the hardware they've created boasts proprietary specs. It has been a major shock to learn how much work and money must to go into optimizing the same printed material for all these devices. And it's abundantly clear that as publishing professionals, we must do much more work, and soon, in establishing standards for print-to-digital conversion.
"Technology is always destroying jobs and always creating jobs, but in recent years the destruction has been happening faster than the creation."
—Erik Brynjolfsson, an economist and director of the M.I.T. Center for Digital Business (via)
Arguably, this obtuse process is employing me. The technology has, in this case, created a new job: There's a need for someone to read each article of each issue (or each page of each chapter of each book) on each device. I don't want to sound ungrateful, because I'm developing quite a little niche for myself as an expert on print-to-digital conversions. But I wonder how long it can last, considering that print media is undergoing huge change at the moment. Momentous, disruptive, industry-wide change that's happening at a rapid pace, particularly with regard to technology.
We might be powerhouse publishers, but in the tech world we're just like every other Joe App Maker, 96 percent of whom do not make significant money on their apps. According to a recent article in the New York Times, 25 percent of Apple game app makers made less than $200, with only 4 percent making upwards of $1 million. Granted, random game app makers don't have the brand recognition or cachet of major publishing houses; neither do they have an overarching, Apple-endorsed app that features their stuff (Newsstand for Apple, if you're still following me).
But make no mistake, the field has been leveled, and instead of competing only with each other, even the biggest content publishers now also compete with Angry Birds, Twitter, Facebook, travel apps, e-commerce apps, dining apps, coupon apps…the list is endless.
The difference? Unlike many apps, the media's brand relevance and reputation absolutely hinges on an amazing user experience across devices at all times. In short, it has to be perfect. And in order for that to happen, the same material must be reconceived by its creators multiple times. It seems impossible to believe, but publishers optimize the same product over and over again, incurring all sorts of real costs from designers, editors, producers and programmers with each iteration. (And this isn't even counting the web producers who conceive it all over again for the online version!) Once you account for these costs, in addition to the so-called legacy costs of creating the print product in the first place, it hardly makes sense even to enter into the realm of app creation for many print products. That's even if you can get your app sponsored or otherwise monetized, and even if you use Adobe to help you create it.
I realize that the common line of thought is that, like websites, if you don't have an app presence, you don't exist. Half a decade ago, this principle propelled the creation of a million new half-assed websites (websites: another print-distribution model without a standard!). But I'd counter that without apps — without content — these devices would be useless. So unless we want to bankrupt the already struggling print media industry further, we must stop playing by the device makers' rules and rewrite them to benefit our business. We must invent technology that adapts our product (ie, content) to any device at any orientation. We must create or help market forces create a standard we can implement and follow; we must negotiate a better rate than giving away 30 percent of our revenue; we must not "throw in" digital access with print subscriptions.
I know, I know: Nature abhors a vacuum. If we don't follow suit, we're nothing. But following hardware makers blindly down dark passageways as our pockets get picked around every corner isn't a smart strategy, either. In one big way, we are not like Joe App Maker: We possess a hugely powerful medium. We must harness our strengths and lead ourselves forward. A nice start might be to begin taking a stand against having to endlessly tinker with every article in every issue of every magazine, every book, every design.
As Shawn Grimes, the app developer profiled by the Times said: "People used to expect companies to take care of them. Now you're in charge of your own destiny, for better or worse." Let's be in charge of our own destiny.