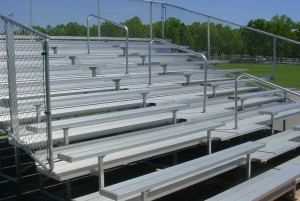 SF Weekly recently published an in-depth look at the Bleacher Report, a sports-centric site whose content is populated almost entirely by its readers. As the article notes, it "[tapped] the oceanic labor pool of thousands of unpaid sports fanatics typing on thousands of keyboards." The site is user-generated content taken to its logical extreme, for good and bad. The good being the scale of coverage; the bad, the poorly written content.
But now it's gone pro, hired real writers and editors, and been polished up — and the "lowest-common-denominator crap," editor King Kaufman says, has been gussied up. The site is now owned by Turner Broadcasting, which snapped it up this summer for a couple hundred mil. Not bad for a site that was built on the backs on unpaid superfans.
I'm not interested in the Bleacher Report per se, but I am interested in the idea that nowadays, crap at scale matters less than quality in proportion, because it's part of a larger trend sparked by disparate forces in the evolution of the Internet. They've come together to wipe away a short-lived business model that called for garbage content that ranked well in search but left the user unfulfilled. This model's most prominent proponent was Demand Media (and its sites, among which are eHow and Livestrong), but certainly the Bleacher Report qualifies too.
The article does a good job explaining how Bleacher Report (and Demand) initially found so much success — basically, by cheating search engines:
Reverse-engineering content to fit a pre-written headline is a Bleacher Report staple. Methodically crafting a data-driven, SEO-friendly headline and then filling in whatever words justify it has been a smashing success.
The piece also touches on the larger context of the shift from what it calls "legacy media" to the current landscape:
After denigrating and downplaying the influence of the Internet for decades, many legacy media outlets now find themselves outmaneuvered by defter and web-savvier entities like Bleacher Report, a young company engineered to conquer the Internet. In the days of yore, professional media outlets enjoyed a monopoly on information. Trained editors and writers served as gatekeepers deciding what stories people would read, and the system thrived on massive influxes of advertising dollars. That era has gone, and the Internet has flipped the script. In one sense, readers have never had it so good — the glut of material on the web translates into more access to great writing than any prior era. The trick is sifting through the crap to find it. Most mainstream media outlets are unable or unwilling to compete with a site like Bleacher Report, which floods the web with inexpensive user-generated content. They continue to wither while Bleacher Report amasses readers and advertisers alike.
But that being the case, we're now entering a brand-new era, one that will attempt to combine the scale and optimization of the new guys with the polish of the old. And we're seeing the end of the SEO-engineered-dreck model for three reasons:
1. The rise of social media as currency
2. Google's Panda algorithm change
3. Advertiser interest
1. The rise of social media as currency
Used to be, back in the aughts, when you were looking for (for example) a podiatrist, you'd Google "podiatrist 10017." You'd get pages and pages of results; you'd sift through them and cross-reference them to your insurance provider, then go to the doctor, discover he had a terrible bedside manner, and decide you'd rather keep your darn ingrown toenail. Nowadays, your first move would probably be to ask your friends on Facebook or Twitter, "Anyone in NYC have a recommendation for a good podiatrist who takes Blue Cross?" And you'd get a curated response from a dependable source (or even a few of them).
Plainly, social media users endorse people, products and articles that are meaningful. You'd never tweet, "Great analysis of how to treat an ingrown toenail on eHow" (at least not unironically). But you might recommend an article from Fast Company on the latest from ZocDoc.
There will always be a place for search — it's one of the main entryways into any news or information site, and that's not going to change anytime soon — but good quality content from a trustworthy source is becoming increasingly valuable again.
2. Google's Panda algorithm change
In early 2011, Google changed its algorithm in an update it called Panda. This meant that, broadly speaking, better content ranked higher in Google's results. Its advice to publishers regarding SEO was basically, "Create good content and we'll find it."
No longer could Demand Media's and Bleacher Report's search-engine-spamming formula win them page views. In fact, Demand Media completely retooled itself in response, saying that "some user-generated content will be removed from eHow, while other content will run through an editing and fact-checking process before being re-posted."
In other words, quality started to matter to users, who let Google know it, and Google responded accordingly. The result was a sea change from how it had been done, leading to a completely new business model for Demand and its ilk.
3. Advertiser interest
Advertisers have long shunned poor quality content. From the beginning, they almost never wanted placements on comment pages, which can feature all-caps rants, political extremism at its worst and altogether unsavory sentiments (which is why many news sites feature comments separately — you thought that tab or link to comments on a separate page was a UX choice? Hardly). The SF Weekly article quotes Bleacher Report's Kaufman, who says of its transformation to better quality stuff, "This was not a decision made by the CEO, who got tired of his friends saying at parties, 'Boy, Bleacher Report is terrible.' Bleacher Report reached a point where it couldn't make the next level of deal, where whatever company says 'We're not putting our logo next to yours because you're publishing crap.' Okay, that's the market speaking."
So it is. A longer story for another time, but neither advertisers nor publishers are getting a lot of bang out of banner ads, CPMs and click-through rates. Increasingly, the least you can do to appeal to the market, if you're a publisher, is create good content. How to do it without breaking your budget and while devising new technologies, maintaining your legacy product and operations, and appealing to readers…well, if I knew the answer to that, I'd be a rich woman.
Meantime, even though "critics from traditional journalistic outlets continue to knock Bleacher Report as a dystopian wasteland where increasingly attention-challenged readers slog through troughs of half-cooked word-gruel, inexpertly mixed by novice chefs," they're making money like you wouldn't believe. They don't break stories, they own them (the same is true of the Huffington Post).
Time for the "legacy" to embrace the future.