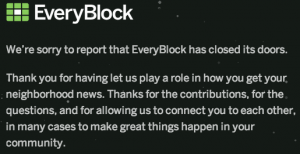 EveryBlock, a hyperlocal news start-up that used data to filter neighborhood news and spark discussion, has been shut down by its corporate overlord. Apparently, NBC News acquired it last year (which itself was news to me) but couldn't find the business model to continue operating the site. That's a common tale among hyperlocal news sites, but it still stings when one closes down.
It's too bad — I think it had more going for it than many similarly themed sites — and its founder, Adrian Holovaty, seems shocked that the site has met its end. When he sold the site last year, he was proud of its success and confident in its future:
"EveryBlock users have used our service to accomplish amazing things in their neighborhoods: starting farmers markets, catching flashers, raising money for their community, finding/reporting lost pets…and generally getting to know their neighbors and forging community bonds. These days, something like this happens on the site nearly every day — which casual onlookers might not notice because of our long-tail, neighborhood-specific focus. EveryBlock has become a force for good, and it's got a bright future."
Sigh. I suppose it's not particularly interesting that a start-up failed to locate a business strategy or that it didn't "pivot" quickly enough to "disrupt" via its "MVP." What is interesting about this case is that the site was a news-centric one that really challenged newsgathering tactics, asked questions about the use and display of public data and, in its small way, wrought lessons for the [cue horror-movie scream] Future of Journalism. It began, after all, as a recipient of a Knight Foundation grant.
Even more interesting is that it evolved so much over its short life (actually, wait, is six years long or short in technology?). When it began, it was just one news-tech guy's realization that news should not be story-centric but instead should be gathered as structured data. He married the programmer's philosophy of the separation of content and presentation with the journalist's instincts for ever-better storytelling. Holovaty's blog post from September 2006 is, in retrospect, both amusing and prescient. In it, he calls for parsing data and creating CMSes that support content types other than words, two notions that are laughably obvious six years later.
(On the flip side, also laughable are the mention of PDAs and the idea that tagging was "trendy.")
Holovaty turned those 2006 idea germs into EveryBlock's mapping and reporting functionality and, ultimately, he created a robust community around neighborhood news. The site put forth a notion of what the oft-dreaded Future of Journalism could be, or one version of it, anyway. It tried something new. It experimented. And the experiment did yield results; unfortunately, the conclusion was that this model might not be quite right.
In its sad and clearly hasty post today confirming the shutdown news, EveryBlock seems to acknowledge that it was a victim of the unforgiving pace of change in the online journalism industry:
"It's no secret that the news industry is in the midst of a massive change. Within the world of neighborhood news there's an exciting pace of innovation yet increasing challenges to building a profitable business. Though EveryBlock has been able to build an engaged community over the years, we're faced with the decision to wrap things up."
In short: "We tried. We'd like to keep trying, but trying doesn't pay the bills." And that's too bad.