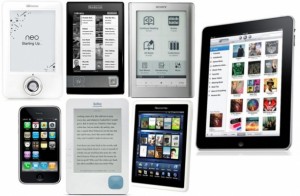 Many of my recent freelance gigs have involved reading printed materials on various electronic devices, so I've basically become a one-woman control group for determining the best device-reading experience. I've had the opportunity to directly compare the following devices: Kindle E-Ink, Third-Generation Kindle ("Keyboard Kindle"), Fourth Generation Kindle, Kindle Fire, Kindle Fire HD, Samsung Galaxy, iPad 2 and iPad 3.
Ready for the results? The winner is…the iPad 3 with retina display!
The result is perhaps not surprising, but the gap in performance and readability among all of these devices versus the iPad 3 really is shocking. The iPad 3, in addition to being a more more sleek and elegant experience overall for the user, is also far, far easier to read. The display is better than even the original printed product to which I was comparing it, believe it or not. The words are clearer and crisper; the photos are deeper and livelier.
When evaluating tablets, we must start with the premise that every six months a new one is released, and that the newer versions are superior to the previous generations. That leaves truly valid comparisons, at the moment, between only the iPad Mini, the iPad 3 and the Kindle Fire HD. Setting aside the iPad Mini for the moment because it doesn't (for some stupid reason) yet have retina display, that leaves the latter two. Perhaps to casual users, the gap between the iPad 3 and the Kindle Fire HD isn't noticeable, but having spent many weeks putting down one device and picking up the other, I can tell you with certainty that the Apple product blows the Amazon one out of the water.
I acknowledge that I am an Apple person. I have an iMac, an iPad 2 and an iPhone, and when I had a Droid phone for about six weeks last year, I wanted to throw it out the window. (Except Swype. I love Swype! Why doesn't Apple have Swype?!) So for me, the Apple experience — gestures that just seem to make sense, buttons where they should be, seamless navigation among apps, access to hundreds of thousands of other amazing and useful apps — in addition to the reading experience put the device in a field of its own.
Is the difference in quality worth $200 ($499 for iPad 3 versus $299 for Kindle), especially if you aren't already living the Apple lifestyle? It depends what you want to use it for and how much weight you want to tote around town, but for my money, even if — or maybe especially if — you only use it to read books and magazines, the retina display is such a game changer that I absolutely think so.
Separately from work, I recently test-drove a Microsoft Surface briefly, and my initial thoughts were that it might be nice if you already live in the Windows universe — native Outlook and Excel apps, for example — but it really doesn't do anything better than the iPad does. And that includes the weird add-on cover keyboards, which are either nontactile (in other words, useless versus the virtual) or just small enough compared to a normal keyboard as to be aggravating. (And this is coming from someone who loathes Apple's virtual keyboard.)
I've also had the opportunity to play with the seven-inch Nexus, which has a nice hand-feel and is extremely portable. I don't think this makes up for its lack of sensible navigation or access to trusted apps, but it's an OK alternative to the real game-changing device, which will be the next-generation iPad Mini, with retina display. (True story: I've never even laid eyes on a real-life Nook.)
It's a safe bet that when the iPad Mini with retina display — small enough to feel good in the hands and fit in the bag, but with the text clarity of the iPad 3 — comes to market, I'll be first in line.
Related: Read my post about why print-to-digital conversion is more difficult and more expensive than it should be.