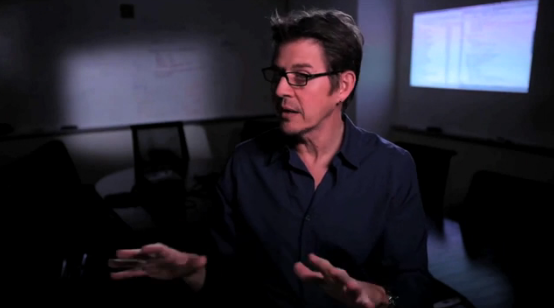 On Friday I had the good fortune to attend the Future of StoryTelling conference. Among the leaders and luminaries in attendance (whose names I will not drop here) was Dr. Kris Hammond, who is the CTO at Narrative Science, which has created an artificial intelligence product called Quill that transforms data into stories (the product generates a story every 28 seconds, per Hammond). I've written about Narrative Science before, and I argued in that post that Narrative Science "is not a threat, it's a tool, and it fills a need."
Now that I've met Dr. Hammond and heard him speak, I'm more a believer than ever that this is the future of journalism — and not just journalism, but all of media, education, healthcare, pharmaceutical, finance, on and on. Most folks at FoST seemed to be open to his message (it's hard to disagree that translating big data into understandable stories probably is the future of storytelling, or at least part of it). But Hammond did admit that since the Wired story came out in which he was quoted as saying that in 15 years, 95 percent of news will be written by machines, most journos have approached him with pitchforks in hand.
I went in thinking that the two-year-old Narrative Science went hand-in-hand with Patch and Journatic in the automated-and-hyperlocal space, but I now think that Hammond's goals, separate from these other companies, are grander and potentially more landscape-altering.
I know I sound like a fangurl, but I was truly that impressed with his vision for what his product can be, and what it will mean to the future of journalism. No, it can't pick up the phone and call a source. It can't interview a bystander. It can't write a mood piece…yet. But they're working on it.
With that, my top 10 quotes of the day from Dr. Hammond:
The first question we ask is not "What's the data," it's "What's the story?" Our first conversation with anyone doesn't involve technology. Our first conversation starts, "What do you need to know, who needs to know it and how do they wanted it presented to them?"
Our journalists start with a story and drive back into the data, not drive forward into the data.
We have a machine that will look at a lot and bring it down to a little.
The technology affords a genuinely personal story.
It's hard, as a business, to crack the nut of local. For example, Patch doesn't have the data, but they're the distribution channel. There's what the technology affords and what the business affords…. We don't want to be in the publication business.
Meta-journalists' [his staff is one-third journalists and two-thirds programmers] job is to look at a situation, and map a constellation of possibilities. If we don't understand it, we pull in domain experts.
The world of big data is a world that's dying for good analysis. We will always have journalists and data analysts. What we're doing is, we're taking a skill set that we have tremendous respect for and expanding it into a whole new world.
The overall effort is to try to humanize the machine, but not to the point where it's super-creepy. We will decide at some point that there's data we have that we won't use.
Bias at scale is a danger.
The government commitment to transparency falls short because only well-trained data journalists can make something of the data. I see our role as making it for everybody…. Let's go beyond data transparency to insight transparency. It can't be done at the data level, it can't be done at the visualization level, it has to be done at the story level.