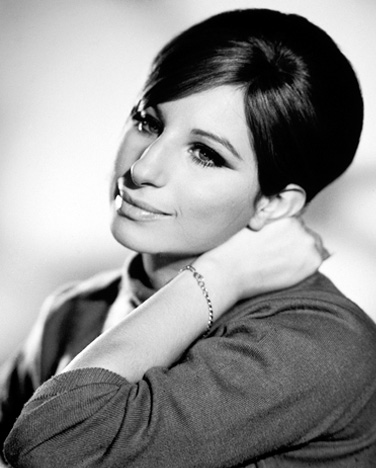 In honor of the Barbra Streisand "Back to Brooklyn" concert tonight (and the preshow fans' dinner, and the postshow fans' drinks outing…), I'm posting my recent contribution to Alison Waldman's new book, Barbra Memories. She used my essay as one of dozens included in the book  (click for full size).

It is posted below in its original form.
I was 10 when I saw Yentl on a rollaway VHS player in Sunday school at my synagogue in Toledo, Ohio.
Her voice was so pretty, she was so strong, and she was Jewish, just like me! Thus began my raging, decades-long obsession with Barbra Streisand.
In short order, my dad sought out 12-inch records for me from the local library and garage sales: Funny Girl (the movie), The Barbra Streisand Album and My Name Is Barbra. I was as entranced by her voice as I was by the pictures of her on the covers. Though I had fallen for her in Yentl, it was those early albums that cemented the fascination. Her voice was like no other I'd heard before: gorgeous, playful, resonant, full of personality. I'm quite certain I didn't understand the ennui of "Cry Me a River" or the irony of her version of "Happy Days Are Here Again." I'm sure I didn't know the heartbreak of "My Man." All I knew was that her voice — brassy, belty, zippy — spoke to me on a level I'd never experienced before. It was like she was singing to me. I was transfixed. I was moved. I was obsessed.
I continued the pursuit. When I was 13 I checked out the biography Streisand: The Woman and the Legend from the Wood County Library and read it passionately. The book portrayed her as bold and brash, confident and a little weird (boldly dropping the extra A?!). I ate it up. Every fact of her life spoke to me on a deep level. She was born one day before my mother, both in Brooklyn, NY. Somehow this transmogrified in my mind as though Barbra was my real mother — they must have been born in the same hospital, so maybe my mother was switched with her, and so I'm really Barbra's daughter…? It all made sense in my adolescent mind.
There was more. She played clubs in the '60s New York's Greenwich Village; my grandfather owned a bar in the '60s in the Village! Did they ever meet; did she ever go there?! I read other biographies. I bought tapes. I borrowed CDs. I rented bad sex farces. I also rented great love stories. I was transfixed when she was onscreen. She was like me — but talented! And that voice, that voice…
I developed a highly attuned sense of Barbra; I took her on as a role model and a hero. I shook my head at the Jon Peters years. I was dismayed by the press's portrayal of her as an inflexible haranguer. I admired her unwavering support of liberal causes. I cheered her unrelenting quest for perfection in all things. And I marveled at her undisputed artistic achievement.
Perhaps not surprisingly, the peak years of my Barbra obsession coincided with the time I was developing my sense of self, the age when one is most influenced by and impressed with idols of all kinds. The summer before college, I even forced my teenage friends to watch Yentl and was positively dismayed when they shrugged her off as a middle-aged woman who didn't remotely carry off the conceit of playing a girl pretending to be a boy. But this didn't stop my adoration, nor did it prevent me from forcing my freshman-year roommate to listen to The Concert night and day.
But hero worship often ends. It ends roughly about the same time you start to realize it's not the drinking that kills you, it's the daylong recovery instead of the hour-long one. You've grown up and grown past it — or at least I did.
I found criticisms where I used to find only abject adulation. I thought Barbra's new material was overproduced, overorchestrated. Big-voiced, belting Barbra, backed by a 60-piece orchestra, can be uplifting and life affirming (for example, "A Piece of Sky"). Intimate, lush Barbra can be smooth and inviting ("Speak Low," "Lazy Afternoon"); pop Barbra can be upbeat and fun ("Stoney End," "Guilty"). Sweet Barbra can be lovely and enchanting ("Evergreen"); jazzy Barbra can swing and dip ("Cornet Man"). But where was the simple bass-drum-piano accompaniment that let her voice be the star? The funky approach and unexpectedly off (but somehow perfect) pronunciations that showcased her talent in her early years had been replaced with sappy life lessons, bombastically produced. She was different. Or maybe I was.
When she toured in 1994, I couldn't afford tickets (I was only 17 and still in high school, after all). I vowed that if she ever toured again, I would go no matter what. Thankfully that came to pass in 2000 (the "Final Tour"!) and again in 2006. Despite the fact that I'd grown up a bit — and, I thought, grown past my obsession — in both instances, I was moved to tears (during the "Yentl Medley" and "Down With Love," respectively). And I expect to be bawling my eyes out again this time. Her unique take on the lyrics and surprising phrasing can still stop me in my tracks and give me goose bumps. Quite simply, she moves me. I don't know how, exactly, she will move me this time, but I know that she will. How could she not? She's been a precious and well-loved (and -respected, and -esteemed) part of my life since I was a child — since before I was able to put the emotions she made me feel into words like this.
Put simply, I am grateful for the many gifts she has been blessed with and with which she has, in turn, blessed me. Occasionally, on moments like this, when she's on stage and in strong voice, I let myself feel that gratitude, let myself be transported back to my teenage bedroom, back to that classroom in shul — the one by the rabbi's office, with the red carpet and the rollaway VCR — where I was first mesmerized and charmed by her voice, her look, her charisma, her authenticity, her talent.