How much longer will making magazines be a viable industry? Audit Bureau figures came out yesterday, and they're straight-up painful. Basically, magazine profits are way, way down. And this is down not from the heyday before the economy tanked, it's down from the post-recession numbers, which sucked in the first place. The New York Times acknowledges that the industry has been on the decline for years now, then quotes industry consultant John Harrington saying that the latest numbers were "the worst I've ever seen." Great.
My summary of the ABC numbers for magazines:
↓ Overall: Down on newsstands almost 10%
↔ Digital: Up — doubled from this time last year, in fact — but to only 2% of total circ
↓ Women's (Cosmo, O) and Celeb (People, Us, Star) titles: Down solidly
↓ Literary titles (New Yorker, VF): Down seriously
↓ Newsweeklies: Down significantly, especially Time
↑ Food titles: Up
I feel privileged to have caught the end, in the '90s and early aughts, of the old media's best days. The future is more uncertain than ever. I hope daily that the industry I love hasn't seen better days, but the numbers and history aren't on its side. "Adapt or die" is such a cliche that one tends to forget that some die. But die they do (or they start to adapt, get diluted enough from their original form that they cease to matter, and then they die).
The Magazine Publishers of America, which runs the ASME Awards, has been renamed and rebranded away from a name and logo that represents a page turning into one that looks like…well, whatever this is: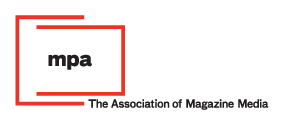 As much as I live online, I also love reading magazines, sitting with them, consuming them in a way you can't on the Internet, or even on a tablet. (Print, though its revenues are paltry and getting paltrier by the day, does supply a massive amount of good-quality content online, let us not forget. Let us, however, try to better monetize?) I was recently away from the computer and Internet for a few days; instead I was informed and delighted by the magazines and books I'd brought with me. They were well written, well edited, well designed and well structured. I came back with torn-out bits, dog-eared pages — matter of fact, I tore out a whole article and sent it to my brother. In the mail. With a stamp.
I'm not a technophobe in the least, and I'm as much a participant in the immediate-gratification culture as the next guy. But I hope I'm not alone in my desire to see the rebirth of the magazine industry. It must find ways to matter to readers/users or face extinction, plain and simple.