This week's This American Life featured a segment on Journatic, a hyperlocal, scaled-content creator that's apparently replacing local reporters in many markets. I've previously written about hyperlocal news and the value of using algorithms in news creation, so the story was of great interest to me.
My argument with hyperlocal is that no one has yet figured out how to do it right. It sounds to me like Journatic is finding some success, but it's also failing in important ways. My defense of algorithms is mostly to do with the company Narrative Science, which as I said is "not a threat, it's a tool, and it fills a need." That need is basically the scut work of news reporting, and although the folks there are working on this very issue, for now, "It's a tool that does a programmatic task, but not a contextual one, as well as a human."
Journatic aims to solve the hyperlocal problem with the algorithmic solution. The company scrapes databases of all kinds, then uses that data to "report" on local bowling scores, trash pickup times, where the cheapest gas is, and who has died recently. The company does this by using algorithms to mine and sort public information, and there's nothing necessarily wrong with that.
When it launched, Journatic-populated site BlockShopper was basically a real-estate listings site based on publicly available data. Using public records, it would "report," for example, that "123 Main St. is in foreclosure." But since then, the algorithms and tools have gotten smarter. Soon it was able to say a home was in foreclosure "by the bank" and also add that it "is up for auction on March 31." The site is now so smart that it actually feels almost invasive. To wit: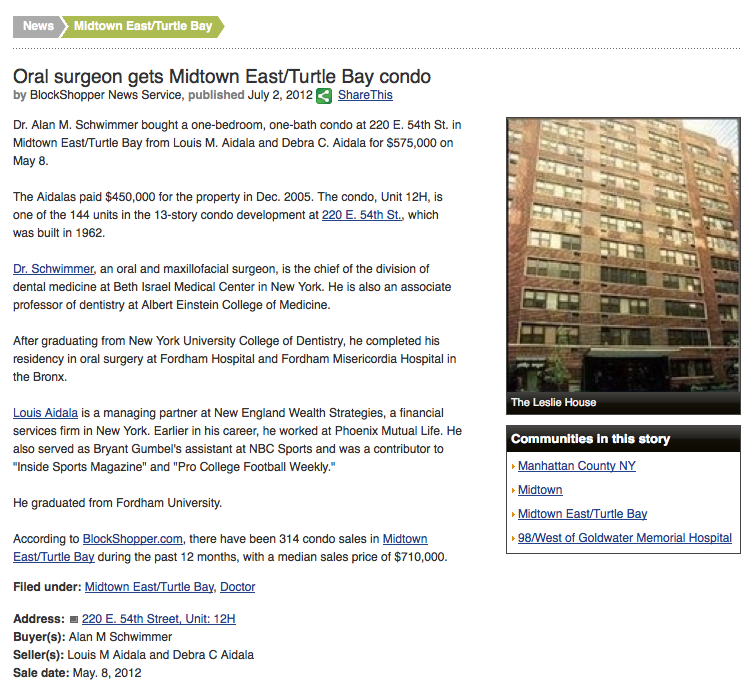 The real estate information contained in the article is publicly available, from the names of the people involved in the transaction to the price paid to the location details. The fascinating thing, and what pushes it into a brave new frontier of journalism and privacy invasion, though, is that the information on the professions of the involved is also publicly available (probably via LinkedIn). Arguably, all the article is doing is presenting public data in a new format. The difference is access and availability. In the pre-Internet days, there was no way to know public information except to go to the city records office and look, and there was really no way to know about peoples' professions except to know them or ask them. These tasks required interested and motivated parties (such as journalists), because actually going places and talking to people requires on-the-ground reporting (not to mention complicit consent). This is not the sort of work Journatic traffics in. That's not a criticism, necessarily, just a fact: There used to be barriers to the information; now there aren't; Journatic uses this lack of barriers plus its algorithms to surface the data.
Journatic aims to solve the hyperlocal problem with the algorithmic solution.
At first, the company didn't do any (or much) writing or analysis. According to This American Life and its whistle-blower, though, the company now pays non-native-English-speakers in the Philippines between $.35 and $.40 a story to try to add a bit of context to the data. Thirty-five to forty cents! However shady this is, though, it is not necessarily unethical. It's capitalistic, and it's pretty shameful, and it feels wrong somehow, but it's not unethical journalistically.
Where it does get unethical is when readers are misled, and that has apparently occurred. They force these writers in the Philippines to use fake bylines like "Amy Anderson," "Jimmy Finkel" and any number of fake bylines with the last name "Andrews," in order to Americanize them and dupe readers, according to the show. This is flat-out wrong, and I think Journatic knew it — they apparently reversed their stance on this after the story aired.
But ethics aside, and journalism in broader context here, Journatic's founder, Brian Timpone, claims that the "single reporter model" doesn't work anymore. The Chicago Tribune, one of Journatic's customers, says that it's gotten three times more content for a lot less money. These are serious issues for the future of the profession (along with the opportunity for privacy invasion and privacy mishandling that all this unfiltered data presents). It's no doubt true that the Trib paid less money for more content versus hiring local reporters. But what is the quality of the work? I think we all know the answer. Shouldn't that be a bigger factor than it is? If you're just turning out junk, your brand gets diluted, and your readers soon abandon you altogether.
It's easy to criticize, but it seems to me that Timpone is trying, as we all are, to devise a way forward. That's admirable, in its way. It's a little scary, and the desire for progress sometimes makes us color outside of the lines, and when that happens, places like This American Life need to be there as a regulator, as has just happened. We're all still muddling our way through the ever-changing new online media landscape, and we will test theories and make mistakes and learn lessons, and with any luck we will end up with a better product, one that serves readers first, last and always. I hope someone is able to someday crack the code of good news done quickly at good quality for a good wage. Until then, we must keep trying.